Canon CR2 to JPG Converter Software
Batch Picture Resizer is an amazing software tool that can help you to resize multiple pictures within a short time and without much hassle. Not all the photos that you have are of the same resolution or size, but you can surely convert them to whatever size you desire. But resizing isn't the only thing the program is capable of, it's also a great converter. Nowadays many companies have entered the digital camera production market and each of them has its own type of RAW image file produced by the respective cameras. CR2 extension is a specific file format denoted by Canon Digital cameras for its own RAW Image file. A CR2 file cannot be viewed normally in Windows system without specific software intended for it, unfortunately. Here's when a converter comes in handy. Batch Picture Resizer is one of the best CR2 to JPEG converters available on today's market, so that you can view the RAW pictures taken by Canon camera once you convert the CR2 files into JPEG format. So if you're an owner of a Canon camera or if you just happened to get some CR2 files that you need to view properly, Batch Picture Resizer is your call.

Digital cameras usually produce RAW image files rather than a conventional JPG file, since RAW images hold all the additional information about the picture and camera when the image was taken. Plus the resolution and the quality of the picture is much better than that of a compressed JPG. Since we can't use the CR2 files directly, many professionals are using Batch Picture Resizer as the CR2 to JPG software to deal with hundreds of CR2 images. This software is very popular and used among most professionals as it can deal with multiple images and convert all of them with almost no loss in quality into JPG image format in one single operation. It's particularly useful because the pictures can be processed simultaneously, which is quite handy for a professional. Moreover its user interface is carefully designed so that it provides a user-friendly and intuitive experience to the user. So it doesn't really matter if you are an experienced photographer and/or a computer user, you can still use the program and make the best of your photos.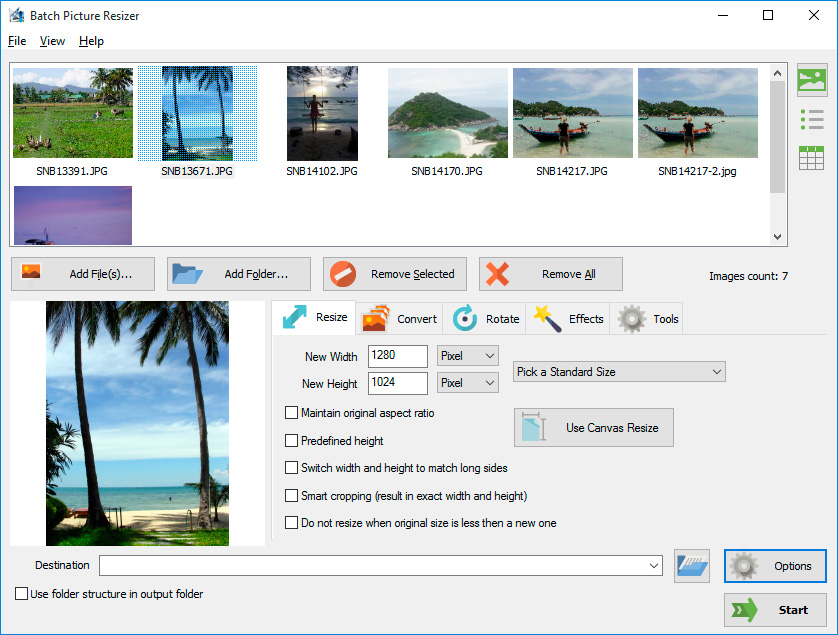 How to Converter CR2 to JPEG
What makes Batch Picture Resizer an exceptional image resize tool is the fact that it does not only act as a CR2 JPG converter but it can actually resize all available types of image files as well. It can be quite useful if you need to publish pictures online, for example, on social networks, like Facebook or other places that require the pictures to be of a standard size. Once you figure out which size you need, you can upload the photos into the program and resize them automatically.

Before purchasing any software, you have to be very careful to check whether it is in line with your requirements. Hence, Batch Picture Resizer allows you to try the software free of charge before buying it. This software operates in a fast and accurate manner while preserving the quality of the output images. It uses the exclusive interpolation algorithm for converting the images into desired dimensions. In addition to image resizing, this tool can also add the watermarks of your choice to multiple images with just a few more mouse click, so that you could protect your works and safely publish them online. Watermarks can be anything, either a few words or a logo image that can be used to protect your images. With this software, you can literally do different operations on multiple images like upscaling images, downscaling images, retrieving orientation information from EXIF and rotating pictures. By the way, all the rotation, mirroring and flipping operations are performed without any loss of quality for the JPG files and as you know, it's critical because JPGs are already compressed and are lossy by default. Batch Picture Resizer will undoubtedly provide you best result within a short duration and you will have complete control over its operation.

For more advanced users, command line is available as well. The program can also rename files in batch mode, so all the pictures can be named correctly and in a organized manner if you need to. If you want to edit your pictures a little, automatic level adjustment and color optimization are available. The program also supports Windows 7 and 8, Explorer menu integration.
Batch Picture Resizer is a great time-saver and a perfect converter for your RAW files, not just CR2 but other formats as well, such as CRW, CR2, NEF, PEF, RAF, RAW, DNG, MNG, etc. Stop wasting your time looking for other converters, it's time to pick Batch Picture Resizer!
Batch Picture Resizer

This easy and user-friendly tool helps you to resize or convert large groups of photos, flip, mirror or rotate them.
Download
Buy now