Damage Control: Recover Files from a Corrupted USB Stick with Flash Drive Recovery Software
Modern society has become very reliant upon technological gadgets and items for almost all aspects of daily life. As it is, personal computers, tablets, smartphones and flash drives have become fixtures in our daily lives—we use them for business, studies and even pleasure. However, the ease and convenience that we get from using all of these items can also be undermined by various threats. For example, a single virus can destabilize entire political and economic systems and can cause the collapse of an entire institution. Apart from these doomsday scenarios, there are also minor yet still significant problems that most people encounter from day to day. One of the most common problems is having a broken or corrupted USB stick or flash drive. It can be very inconvenient and distressing for the person experiencing this particular dilemma, especially if the USB stick contains important documents or precious pictures whose value cannot be easily estimated.

Moreover, the recovery of USB sticks can be a very intimidating prospect, especially for those ordinary folks who are not equipped with cutting-edge technological know-how.

Luckily, developers and IT experts have come up with software that allows corrupted USB stick recovery in a short span of time. With theflash drive recovery
software, a user can access files that were lost either by accidental deletion or through a virus. The program offers a preview of the files that were once contained within the USB, making the problem of broken USB stick data recovery an easy, straightforward process. This particular USB memory stick recovery software also has the capacity to preview and regain access to all kinds of files, whether these are JPEG, MP3, DOCX or some other file type.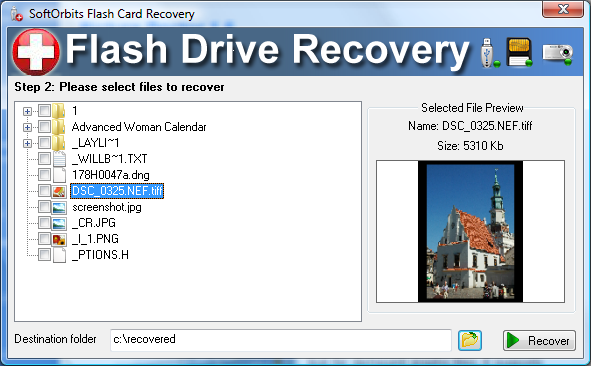 The Flash Drive Recovery program, is also compatible with most operating systems, including Windows 2000, XP, 2003 Server, Vista, Windows 7 and 8, making it easy to use on different devices such as smartphones or tablet PC's. It is also very affordable—the trial version is free while the full Home version can be yours for only $29.95—a small price to pay for the peace of mind that recovering all your precious files can provide.
Posted by
Eugene
2015-08-27
. Last updated on 2019-12-16
SoftOrbits Flash Drive Recovery

SoftOrbits Flash Drive Recovery can recover data from any type of storage media (music sticks, digital cameras, flash drives, USB drives, PC cards, etc). This tool restores all corrupted and deleted files even if a memory card was re-formatted.
Download
Buy now