Recover Memories Easily: How to Undelete SD Cards
The influx of technology has afforded us many ways to store precious moments. With digital cameras, USB drives and SD cards, storing photos and video recordings of your special memories becomes as easy as pie. But what happens when you accidentally delete your SD card or if it somehow becomes corrupted, sending all your precious files into the so-called technological abyss? Many of us have experienced this nightmare at one time or another and it certainly isn't easy — you go from feeling angry and depressed to finally giving up.

Fortunately, there's no need to go through this harrowing experience ever again — with the help of Flash Drive Recovery software, you can now undelete files from SD card in a span of minutes. The sd card undelete process is also pretty straightforward and involves no complex technical knowledge to master, making it extremely user-friendly. Simply download and run the software as instructed, a preview window will pop-up to show you the files that have been recovered and voila — you now have access to your files.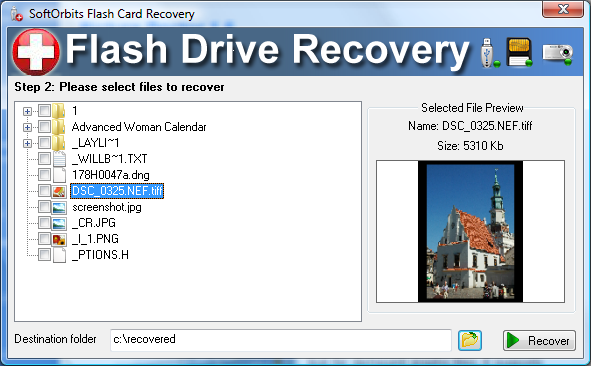 What's more, this data recovery software has the capacity to recover and undelete SD memory card, no matter the type of file that has been saved. You can recover pictures and video recordings from your beach trip or important documents that you need for your business presentation. Are you crying over your lost playlist? Fret no more! The program can undelete music files and movie downloads too. The software supports Microsoft Windows 2000, XP, 2003 Server, Vista, Windows 7 and most other operating systems too, making it easy to use on a host of different devices.

So the next time you accidentally delete all your files, don't worry — with the Flash Recovery Software, you can undelete SD card in a flash and go back to making and storing memories without fear of losing them ever again.
Posted by
Eugene
2015-08-27
. Last updated on 2019-12-16
SoftOrbits Flash Drive Recovery

SoftOrbits Flash Drive Recovery can recover data from any type of storage media (music sticks, digital cameras, flash drives, USB drives, PC cards, etc). This tool restores all corrupted and deleted files even if a memory card was re-formatted.
Download
Buy now