Recovering Important Files from Memory Stick
Flash drives or USB flash drives are removable and rewritable data storage device which was invented to replace floppy disks. It weighs less than 30 grams and comes from the smallest 256 megabyte to a much bigger capacity as 32 gigabytes and usually has a shelf storage life of ten years. Flash drives are used for back-up, storage and transfer of files from computers. They are smaller and portable that is why most if not all computer users own one. Since these USBs have no moving parts, they are said to be more durable. The popularity of USB memory cards grew even more when floppy disks became a passé and laptop and desktop computers were supplied with USB ports. Is there a way to recover deleted files from flash drive?

These days, this portable memory cards are available in various shapes and designs and are quite affordable. More and more people rely on flash drives in saving important files because they are not only portable, they are so lightweight that it can be brought anywhere you go, whether you are flying for a business presentation or just going out of town for a meeting. One hitch of a USB flash drive is when files or folders are accidentally deleted. Now that will be a big problem. Deleted files are unlikely to be found in the recycle bin since USB is an external drive, but with the aid of file recovery utilities available online nowadays, yes, it is possible to recover files from flash drive.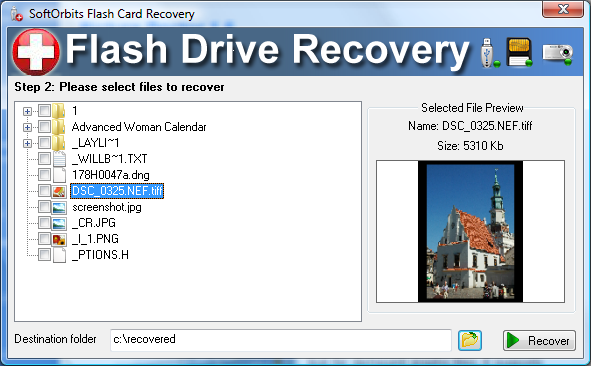 You may hear of software that can recover flash drive files such as Flash Drive Recovery software. This is one program that can be relied on when encountering problems of deleted files from a memory stick. Word and excel files, photos, videos, and all other documents that were accidentally deleted can be readily recovered in an instant with the help of Flash Drive Recovery program.
SoftOrbits Flash Drive Recovery

SoftOrbits Flash Drive Recovery can recover data from any type of storage media (music sticks, digital cameras, flash drives, USB drives, PC cards, etc). This tool restores all corrupted and deleted files even if a memory card was re-formatted.
Download
Buy now