Undelete photos
Understanding how data recovery works
When you delete a file from a disc or a card, the content of the files are not deleted immediately. Only the reference of the content is deleted and it cannot be accessed anymore. The space which is used by this file is marked as available for any new content to be written. Till the time the content is not overwritten there is a possibility of data recovery. However in case the file contents are overwritten then it is impossible to recover the data.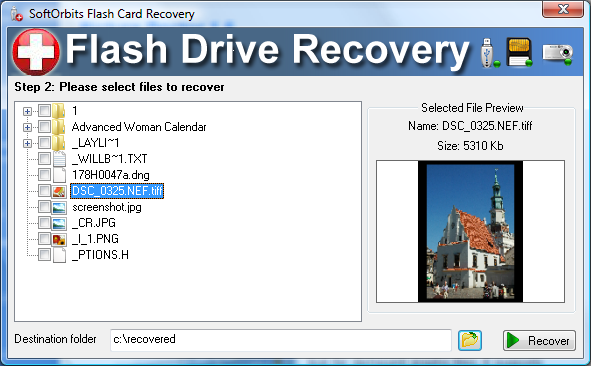 Precautions before your data recovery
The first and foremost precaution which you need to take for recovering your data is to protect any overwriting on the existing data. Make sure that you are not doing any operations which require data to be written in the flash media like saving a file or copying data from somewhere else. If you are trying to recover data from other devices like flash cards, SD card, USB flash drive or similar devices, simply unplug them from your camera or laptop or audio devices until you run recovery software.

Install data recovery software
Data recovery software are necessary to recover your deleted files as all the deleted references need to be rebuild before you can save your data back. The software for data recovery is licensed and comes with a price. The recovery software should not be installed on disk or card from where the files need to be recovered. It should be installed and run from a different location. Do not try to use any freeware software as you may lose data while trying to recover, using these software. Instead go for software like Flash Drive Recovery from SoftOrbits. It enables you to recover all types of files from various flash based media. It is easy to use and has user friendly front end where you can select the drive from which you want to recover deleted files. Once the drive is selected you can preview and recover the files you want. The software is supported on almost all latest windows operating systems.

So next time you get into a situation where you want to recover data, it is worth buying software like Flash Drive Recovery and run them as soon as possible to have full or maximum recovery.
Posted by
Eugene
2015-08-27
. Last updated on 2019-12-16
SoftOrbits Flash Drive Recovery

SoftOrbits Flash Drive Recovery can recover data from any type of storage media (music sticks, digital cameras, flash drives, USB drives, PC cards, etc). This tool restores all corrupted and deleted files even if a memory card was re-formatted.
Download
Buy now