Recover deleted files from usb drive
Accidentally deleted the files from your USB device or a memory card? The work is not lost. Recover deleted files from USB drive with Flash Drive Recovery Software! It is easy to use and very efficient. Flash Drive Recovery software is especially created to help the recovery of the files from damaged, corrupted or formatted memory cards or flash drives. It supports a wide variety of devices which are solid-state. It can recover files and information from USB drives and most known memory cards (SDHC, SDXC, SD, Compact Flash, Sony Memory stick and obsolete formats like MMC and xD). This software can recover data directly from audio players and digital cameras if they are connected via an USB cord.

How to use the software? It is fully automated and very easy to use. You don't need any specific knowledge to use this software. You might not even need a tutorial for learning how to use the Flash Drive Recovery software. For recovering the deleted data and files from an USB flash drive or from a memory card, launch the Flash Drive Recovery software and it will ask you to select from a list the drive you want to recover. After this, it will identify the files you had on the drive. After the scan is complete, a list of least corrupted and damaged files will show up. You will be able to preview every file you want. Then all you need to do is select the files you want to save on your hard disk.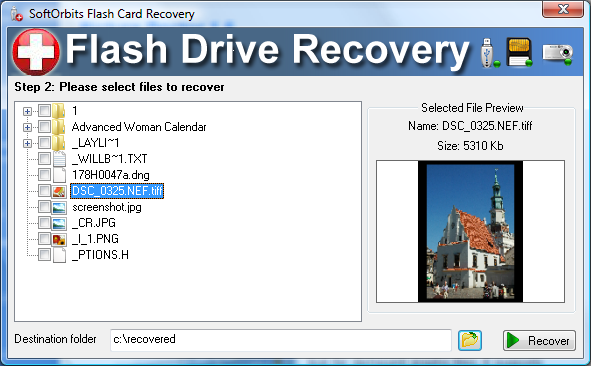 What types of files does Flash Drive Recovery work with? Working with various types of files is important for every recovering software. The Flash Drive Recovery software is able to recover almost all types of files. (Microsoft Office files, audio files, video files, even executable files)It has a built-in visual preview of the files you are about to save on your hard disk. It displays the recoverable content before you choose what to save. The software allows you to pick from a list the least corrupted versions of the files you previously had on the USB stick or on the memory card. It also previews and recovers the RAW images.

The supported operation systems: It supports all Microsoft Windows Operation systems later than 2000. (including 2000). The Flash Drive Recovery software is the best chance for you to recover deleted files from USB stick, memory card, digital camera and audio player.
SoftOrbits Flash Drive Recovery

SoftOrbits Flash Drive Recovery can recover data from any type of storage media (music sticks, digital cameras, flash drives, USB drives, PC cards, etc). This tool restores all corrupted and deleted files even if a memory card was re-formatted.
Download
Buy now