Recover Precious Files with Memory Stick Recovery Software
A memory stick makes your digital life more convenient. You can store photos, music, videos, and files in just one portable device. Saving data is much easier now because of this amazing device. However, constant use can cause either a temporary or permanent damage to your memory stick. This problem occurs when you accidentally drop your memory stick. A damaged memory stick is also a result of negligence. Once it happens, it is difficult to retrieve saved data in your device. Fortunately, there is a new way to solve this problem using a memory stick recovery software. The Flash Drive Memory is a new product that allows you to recover lost files in your memory stick.

In the past, it was difficult to recover lost photos, songs, and videos in a damaged memory stick. It is always a frustrating experience when you find out that all your precious photos are irretrievably lost. Today, this is not a problem anymore. You can always use a broken memory stick data recovery tool. This tool allows you to recover all your important files instantly. No need to worry about accidentally erasing all you data. If you use this tool, your data will be safe and secure, even if your memory stick is already damaged.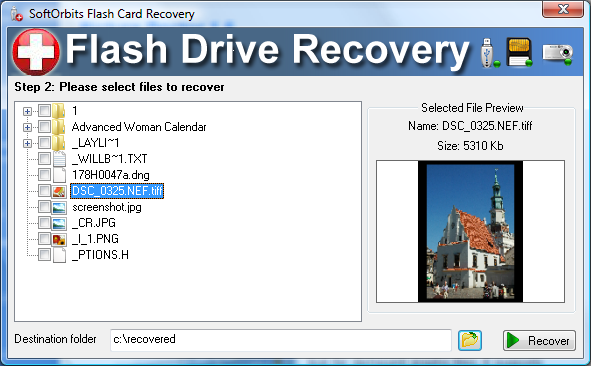 Thanks to memory stick file recovery utility, you can now continue shooting more photos or record videos without worrying about data loss. It is also important to use your memory stick carefully to avoid any damage to your data. A memory stick is a convenient way to store vital data anytime and anywhere. In case you encounter issues regarding your memory stick, just use a memory stick recovery tool. This is by far the most effective solution. Losing your precious data is no longer a big concern these days.
Posted by
Eugene
2015-08-27
. Last updated on 2019-12-16
SoftOrbits Flash Drive Recovery

SoftOrbits Flash Drive Recovery can recover data from any type of storage media (music sticks, digital cameras, flash drives, USB drives, PC cards, etc). This tool restores all corrupted and deleted files even if a memory card was re-formatted.
Download
Buy now