Discover How to Recover Files from USB with Flash Drive Recovery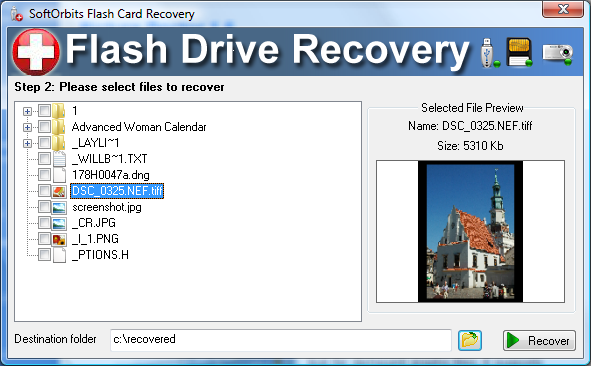 Download for Free
Corrupted USB Devices: Recovering Files Easily
USBs are arguably the most widely used external storage devices in the world. Because of their compact size, large storage capacities up to 1 terabyte, and speed, computer users have considered USBs a staple device needed in transporting files from one computer to another.
A corrupted USB device is the most common problem consumers experience when using their USB device. Usually a result of improper disconnection from the computer, corruption can cause all files within the device to be inaccessible to the user until such problem is resolved.

How to Recover Usb Drive Files
Flash Drive Recovery is a standalone data recovery tool that will allow the user to preview the content of a USB drive and show deleted files that can be saved. To recover deleted files from USB, the user will only need to pick from a list the file to restore and save back to the computer's disk. It has its own preview program that can launch without starting any third-party tools. It will recover files from many kinds of flash memory devices including but not limited to SD, SDHC, SDXC, Sony Memory Stick and Compact Flash. Flash Drive Recovery will recover files whether it is a data file, a standard image file, or even RAW images.

Recover deleted files from usb drive
It is fully automated and very easy to use. You don't need any specific knowledge to use this software. You might not even need a tutorial for learning how to use the Flash Drive Recovery software. For recovering the deleted data and files from an USB flash drive or from a memory card, launch the Flash Drive Recovery software and it will ask you to select from a list the drive you want to recover. After this, it will identify the files you had on the drive. After the scan is complete, a list of least corrupted and damaged files will show up. You will be able to preview every file you want. Then all you need to do is select the files you want to save on your hard disk.

Whether it be an important term paper due in an hour, or photos of your child's first birthday, no longer will users have any problem to recover USB flash drive files. A simple program that retrieves files from corrupted devices, Flash Drive recovery is easy to use and stands on its own. One simply has to download the program from online, launch Flash Drive Recovery, and select the USB drive you wish to recover. The program then automatically recovers all files from the corrupted device.

Download for Free
How to Recover Deleted Files from Usb Stick FAQ
❓ What types of files does Flash Drive Recovery work with?
Working with various types of files is important for every recovering software. The Flash Drive Recovery software is able to recover almost all types of files (Microsoft Office files, audio files, video files, even executable files). It has a built-in visual preview of the files you are about to save on your hard disk. It displays the recoverable content before you choose what to save. The software allows you to pick from a list the least corrupted versions of the files you previously had on the USB stick or on the memory card. It also previews and recovers the RAW images.
❓ What if I accidentally deleted the files from my USB device or a memory card?
The work is not lost. Recover deleted files from USB drive with Flash Drive Recovery Software! It is easy to use and very efficient. Flash Drive Recovery software is especially created to help the recovery of the files from damaged, corrupted or formatted memory cards or flash drives. It supports a wide variety of devices which are solid-state. It can recover files and information from USB drives and most known memory cards (SDHC, SDXC, SD, Compact Flash, Sony Memory stick and obsolete formats like MMC and xD). This software can recover data directly from audio players and digital cameras if they are connected via an USB cord.
Posted by
Eugene
2015-08-27
. Last updated on 2020-02-28
SoftOrbits Flash Drive Recovery


SoftOrbits Flash Drive Recovery can recover data from any type of storage media (music sticks, digital cameras, flash drives, USB drives, PC cards, etc). This tool restores all corrupted and deleted files even if a memory card was re-formatted.
Download
Buy now