Discover How to Recover Files from USB with Flash Drive Recovery
Nowadays, flash memory, such as in a USB drive or a memory card, is making file transfer very convenient. Unfortunately, their common usage also exposes them to more chances of data corruption. The important files that people carry around all the time can be corrupted or deleted with just one wrong click of a mouse or a press of the keyboard. There is also the danger that comes from infected devices that can corrupt data once the USB drive is plugged in them. USB drives and memory cards are very vulnerable to malwares and viruses. Therefore, it is crucial that people should have a utility to recover files from USB. SoftOrbits' Flash Drive Recovery is one such exceptional program.

Flash Drive Recovery is a standalone data recovery tool that will allow the user to preview the content of a USB drive and show deleted files that can be saved. To recover deleted files from USB, the user will only need to pick from a list the file to restore and save back to the computer's disk. It has its own preview program that can launch without starting any third-party tools. It will recover files from many kinds of flash memory devices including but not limited to SD, SDHC, SDXC, Sony Memory Stick and Compact Flash. Flash Drive Recovery will recover files whether it is a data file, a standard image file, or even RAW images.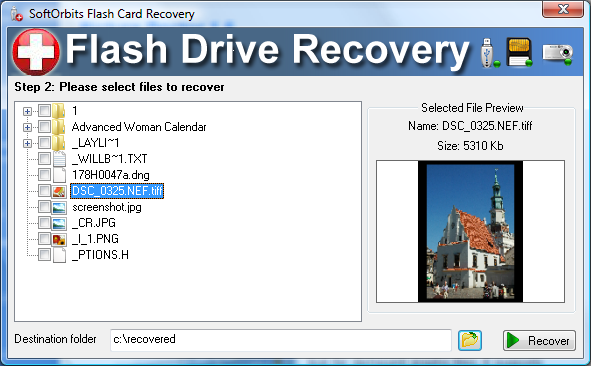 By going to
//www.softorbits.com/flash-drive-recovery, interested users can download a test version and check with the preview function how effectively it can recover corrupted files from USB. The software is less than 5 Mb, and the Personal License edition gives the user unlimited usage, unlimited email support, and free upgrades to all minor revisions of the software. The software also comes in a 2-Personal License edition for Desktop + Laptop, and a Business License. The software will even recognize the flash memory from devices such as digital cameras and audio players connected via the USB port. Flash Drive Recovery is really a must-have program that can put your worries of USB file corruption away for good.
SoftOrbits Flash Drive Recovery

SoftOrbits Flash Drive Recovery can recover data from any type of storage media (music sticks, digital cameras, flash drives, USB drives, PC cards, etc). This tool restores all corrupted and deleted files even if a memory card was re-formatted.
Download
Buy now