Recover Important Files with Flash Drive Recovery
A damaged memory card is a terrible loss. Everyone knows the fact that when a memory card is corrupted, there is a slim chance that the stored data can be restored. You probably encounter this problem once or twice. It can be really frustrating. You spend a lot of time and energy saving all your photos and videos until one fateful day, your memory card is no longer functioning. What should you do? Is there still any hope left to retrieve all your pictures and videos? Maybe the tentative answer is no if you do not know Flash Drive Recovery. Today, there is already a way to recover corrupted memory card.

Many people are interested to learn how to recover data from corrupted memory card because it is sometimes inevitable. A memory card is a useful device for storing files. You can bring it anywhere you go. Saving many photos in one day is no longer a problem. In the past, you were only limited to the internal storage capacity of your digital camera. But today, your memory card allows you to record videos for a long time without minding the storage limits. As long as you use it carefully, your memory card will stay in perfect condition for a long time.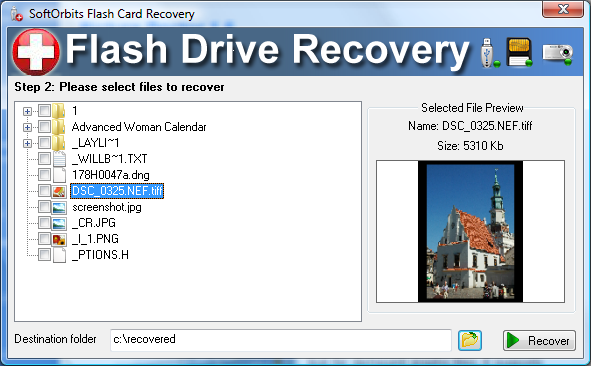 Recovery software can also be used to recover files from corrupted memory card. With this type of software, restoring the original files in your memory card only takes a few minutes. Nonetheless, it is still important to observe proper handling of your memory card to avoid loss of important data. In case you have a damaged memory card, you should learn how to recover your files. The most effective solution is to use a recovery tool. It is not only easy and convenient. It is also the fastest way to retrieve all your photos, music videos, and other vital files.
Posted by
Eugene
2015-08-27
. Last updated on 2019-12-16
SoftOrbits Flash Drive Recovery


SoftOrbits Flash Drive Recovery can recover data from any type of storage media (music sticks, digital cameras, flash drives, USB drives, PC cards, etc). This tool restores all corrupted and deleted files even if a memory card was re-formatted.
Download
Buy now