Recover flash media with a SoftOrbits software
Are you looking for a reliable flash file recovery program by autoritative vendor to save all your deleted files?
Established in 2006, SoftOrbits is an award-winning company known for their effective, convenient and high performing software recognized by their customers and is fully supported by the SWRUS, ISDEF, and OISV members. SoftOrbits, a trusted software development company, offers the Flash Disk Recovery tool that is available for a free trial version.

About the Flash Card File Recovery
The Flash Recovery software stand-alone built-in visual pre-recovery preview display that allows users to view files that have been deleted or corrupted yet are still recoverable. It is fully automated and very easy to use.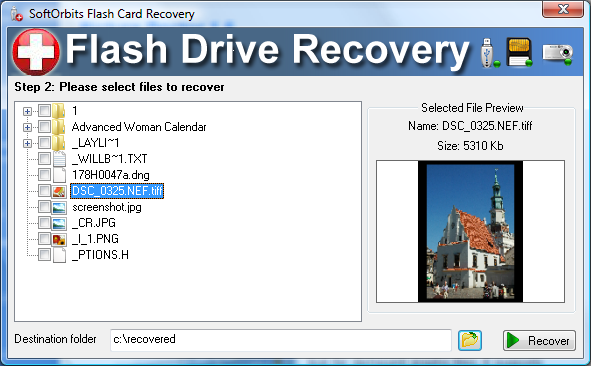 The recovery flash drive software can restore files in various memory card types such as SD, Sony Memory Stick, Compact Flash, SDXC, SDHC and even those that are already obsolete such as xD and MMC. It supports various Window operating systems like Windows 2000, XP, 2003, Vista, Windows 7, 8 and 2008.

In addition, it can directly recover files from digital cameras and MP3 players using a USB cable.

When you download the free trial version, users can only preview recoverable files but won't be able to save them. It can only be saved once customers buy the full version.
SoftOrbits' Flash Recovery software has a 4.5 rating out of 50 reviews from customers. If you're still not sure about it, just download the free trial version, which can take only about 4.8 MB on your drive. If you're satisfied with the result, we highly suggest that you purchase the home version and save all your important files that have been deleted or corrupted.

For more information and testimonials about the product, just visit them online. They have a broad selection of various software that are important to every computer users.
SoftOrbits Flash Drive Recovery

SoftOrbits Flash Drive Recovery can recover data from any type of storage media (music sticks, digital cameras, flash drives, USB drives, PC cards, etc). This tool restores all corrupted and deleted files even if a memory card was re-formatted.
Download
Buy now