Get Your Important Files Back with SoftOrbits' Flash Drive Recovery Software!
Ever felt the horror of having all your important files deleted just because your flash drive was damaged? Did you download a certain file recovery software only to find out it doesn't really work (and in some cases, it's a malware)? Well, there are hundreds of them out there but one software program is sure to recover all your important data smoothly and easily!

SoftOrbits, a software development company has released its Flash Drive Recovery software designed specifically for compact flash data recovery. It can work and recover lost files from a wide array of USB flash drives and memory cards. It allows for flash card data recovery even with obsolete formats such as xD and MMC. Also, the interface of the program is very simple and allows the user to preview the content of recoverable files allowing them to choose the files that they want to recover. You wouldn't have to worry about it being complicated since after choosing the files you want to recover, the program will do everything by itself. It can be used by both adults and teens without the fuss.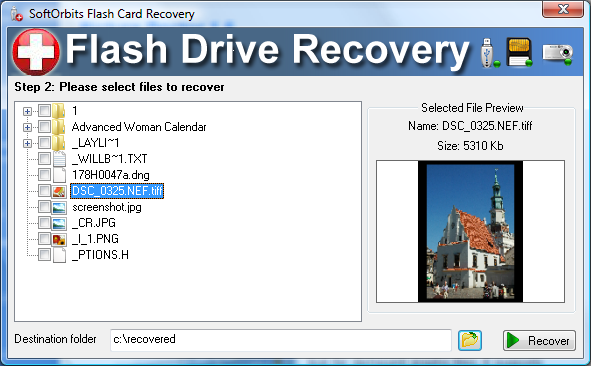 The SoftOrbits Flash Drive Recovery has a free trial version so you can try out the programs' features before making a purchase. Users have different options in purchasing the full package depending on their needs. Prices start for as low as 29.99 US dollars! You could also purchase a license for your business or company for only 120 US dollars!
You can rest assured that SoftOrbits' Flash Drive Recovery Software is 100% malware and virus free since SoftOrbits is a reputable company in partnership with Intel and it has also been certified by Softpedia making it one of the best broken flash drive data recovery software in the market! So what are you waiting for? Try it now!
SoftOrbits Flash Drive Recovery


SoftOrbits Flash Drive Recovery can recover data from any type of storage media (music sticks, digital cameras, flash drives, USB drives, PC cards, etc). This tool restores all corrupted and deleted files even if a memory card was re-formatted.
Download
Buy now