Get Your Important Files Back with SoftOrbits' Flash Drive Recovery Software!
Download Compact Flash Recovery Software for Corrupted or Formatted Drives
Don't Lose Hope: Recover Your Files with Compact Flash Recovery Software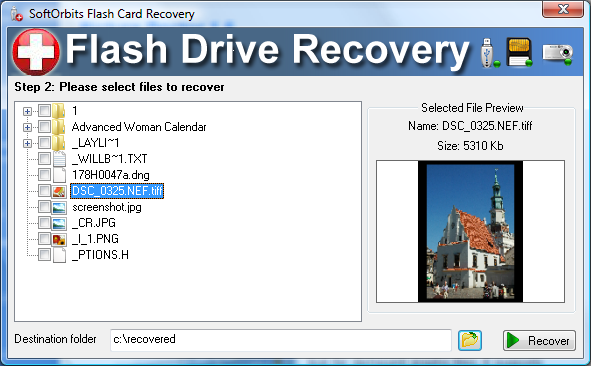 Download for Free
Did you know that you can still recover your old files from a corrupted flash drive? Using a compact flash recovery software, your deleted files like photos, videos, and documents can be retrieved without any hassles. Unlike other kinds of storage devices, a compact flash drives uses non volatile technology for data storage. Compact flash drives are unique mainly because it can store big files without the need for batteries.

Many professional photographers still prefer to use a compact flash drive for many reasons. First, a compact flash drive is more reliable in terms of its storage capacity and durability. Next, many mobile professionals opt to use compact flash drives because of its interoperability. This means that it can be used in almost any type of devices without encountering compatibility issues at all. In terms of cost, compact flash drives are more cost-efficient compared to memory cards, sd cards, and other types of storage devices.

SoftOrbits, a software development company has released its Flash Drive Recovery software designed specifically for compact flash data recovery. It can work and recover lost files from a wide array of USB flash drives and memory cards. It allows for flash card data recovery even with obsolete formats such as xD and MMC. Also, the interface of the program is very simple and allows the user to preview the content of recoverable files allowing them to choose the files that they want to recover. You wouldn't have to worry about it being complicated since after choosing the files you want to recover, the program will do everything by itself. It can be used by both adults and teens without the fuss.

About the Flash Card File Recovery
- The Flash Recovery software stand-alone built-in visual pre-recovery preview display that allows users to view files that have been deleted or corrupted yet are still recoverable. It is fully automated and very easy to use.
- The program can restore files in various memory card types such as SD, Sony Memory Stick, Compact Flash, SDXC, SDHC and even those that are already obsolete such as xD and MMC. It supports various Window operating systems like Windows 2000, XP, 2003, Vista, Windows 7, 8 and 2008.

- In addition, it can directly recover files from digital cameras and MP3 players using a USB cable.
The SoftOrbits Flash Drive Recovery has a free trial version so you can try out the programs' features before making a purchase.
You can rest assured that Flash Drive Recovery Software is 100% malware and virus free since SoftOrbits is a reputable company in partnership with Intel and it has also been certified by Softpedia making it one of the best broken flash drive data recovery software in the market! So what are you waiting for? Try it now!

Download for Free
Compact Flash Data Recovery for Broken or Damaged Drives FAQ
❓ What do I do if I deleted files from Compact Flash my mistake?
While it is praised for its reliability, a compact flash drive is not impeccable. It has its own limitations and vulnerability issues, which you need to watch out for, especially if you rely so much on its storage capacity. For example, a compact flash drive is still open to human error. If you press the wrong option, you can easily delete all your data in just a second. But this is not a problem anymore because of compact flash card recovery software.
❓ Why I can not find my files on Compact Flash Drive and how to restore them?
Sometimes, simply transferring your files to another storage device can lead to data loss. If you are not fully aware of what you are doing, you can simply press the delete key or press the format option. In just a few seconds, your data are already gone. A damaged compact flash drive can also erase all your data. If that happens, you can just use a reliable Flash Drive Recovery software for corrupted flash drive recovery.
2015-08-27
. Last updated on 2020-02-28
SoftOrbits Flash Drive Recovery

SoftOrbits Flash Drive Recovery can recover data from any type of storage media (music sticks, digital cameras, flash drives, USB drives, PC cards, etc). This tool restores all corrupted and deleted files even if a memory card was re-formatted.
Download
Buy now