Don't Lose Hope: Recover Your Files with Compact Flash Recovery Software
Did you know that you can still recover your old files from a corrupted flash drive? Using a compact flash recovery software, your deleted files like photos, videos, and documents can be retrieved without any hassles. Unlike other kinds of storage devices, a compact flash drives uses non volatile technology for data storage. Compact flash drives are unique mainly because it can store big files without the need for batteries.
Many professional photographers still prefer to use a compact flash drive for many reasons. First, a compact flash drive is more reliable in terms of its storage capacity and durability. Next, many mobile professionals opt to use compact flash drives because of its interoperability. This means that it can be used in almost any type of devices without encountering compatibility issues at all. In terms of cost, compact flash drives are more cost-efficient compared to memory cards, sd cards, and other types of storage devices.

While it is praised for its reliability, a compact flash drive is not impeccable. It has its own limitations and vulnerability issues, which you need to watch out for, especially if you rely so much on its storage capacity. For example, a compact flash drive is still open to human error. If you press the wrong option, you can easily delete all your data in just a second. But this is not a problem anymore because of compact flash card recovery software.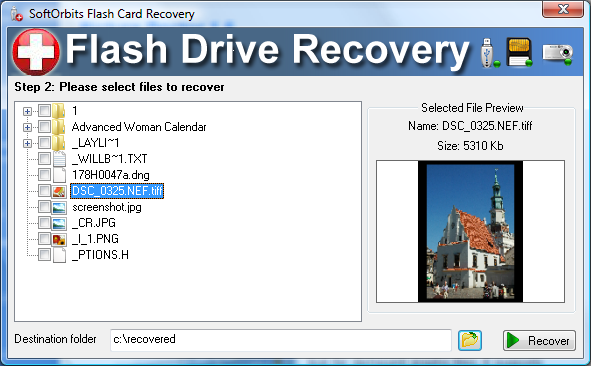 Sometimes, simply transferring your files to another storage device can lead to data loss. If you are not fully aware of what you are doing, you can simply press the delete key or press the format option. In just a few seconds, your data are already gone. A damaged compact flash drive can also erase all your data. If that happens, you can just use a reliable Flash Drive Recovery software for corrupted flash drive recovery.
SoftOrbits Flash Drive Recovery

SoftOrbits Flash Drive Recovery can recover data from any type of storage media (music sticks, digital cameras, flash drives, USB drives, PC cards, etc). This tool restores all corrupted and deleted files even if a memory card was re-formatted.
Download
Buy now