Flash Drive Recovery Software Capabilities, Limitations and Guarantees
Flash drives and Compact Flash Cards (CF cards) were key advancements from the use of the floppy disk just a decade ago. Not only do they hold more memory, but they are less fragile and therefore more difficult to damage or lose data. If data is somehow lost, however, then there are options to recover the lost files.
One service of SoftOrbits provides Flash Drive and CF Card Recovery software in order to recover damage, formatted or corrupted flash drives and memory cards. This software recovers all file types.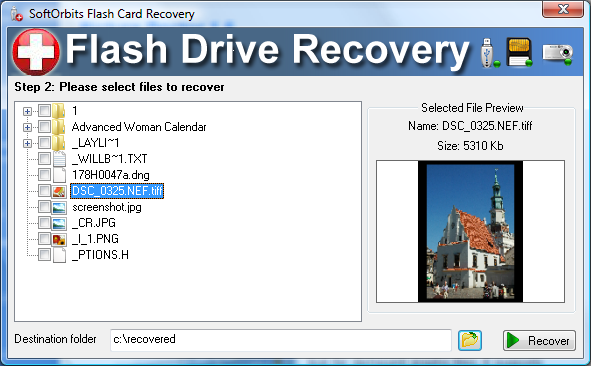 To obtain this software, you first need to purchase and download it from the website. The first month is free, so you don't have to pay anything up front. This gives you an ideal situation to try the product, and ease the fear of it not working on your software.
Because of this, your trial of this software is risk free. The software works for most devices and most situations, but there is still the risk of the damage being far too great. This free trial ensures that you will not spend money for a product that does not work for your situation.

Flash drives stop working for many reasons. It's a mechanical device, with parts set in a certain place. Unlike hard drives, flash drives don't move around when you use them. But, like anything else, sometimes these devices can become physically damaged or worn out.

Viruses are another issue to worry about, and can corrupt your flash drive if you're not careful. Even with a variety of antivirus options for all types of computers, sometimes they can still slip through the cracks and damage your data.

Recovery of CF cards and flash drives for mechanical failures and physical damage are not to be excluded from this software's capabilities. It is designed to find the lost memory even in these cases.
The important thing to understand is that these files can be recovered because they are not actually deleted completely from your device. There is still a trace of memory on the device, you just need something designed to access it.
The software is very easy for a user to use. Upon download, the program will instruct the user on how to run the program. The process might be compared to scanning your computer for a virus, as this advanced software is scanning your device for lost memory. Your device needs to be plugged into your computer for this to work so the software can scan it.

If the damage to your flash drive is physical, it is a good idea to back up the files elsewhere in case your device is permanently damaged. Non-mechanical issues are typically easier to repair, but it is always a good idea to back up your data.
Posted by
Eugene
2015-08-27
. Last updated on 2019-12-16
SoftOrbits Flash Drive Recovery


SoftOrbits Flash Drive Recovery can recover data from any type of storage media (music sticks, digital cameras, flash drives, USB drives, PC cards, etc). This tool restores all corrupted and deleted files even if a memory card was re-formatted.
Download
Buy now