Download Fast Image Resizer for Windows 7, 10 32/64 bit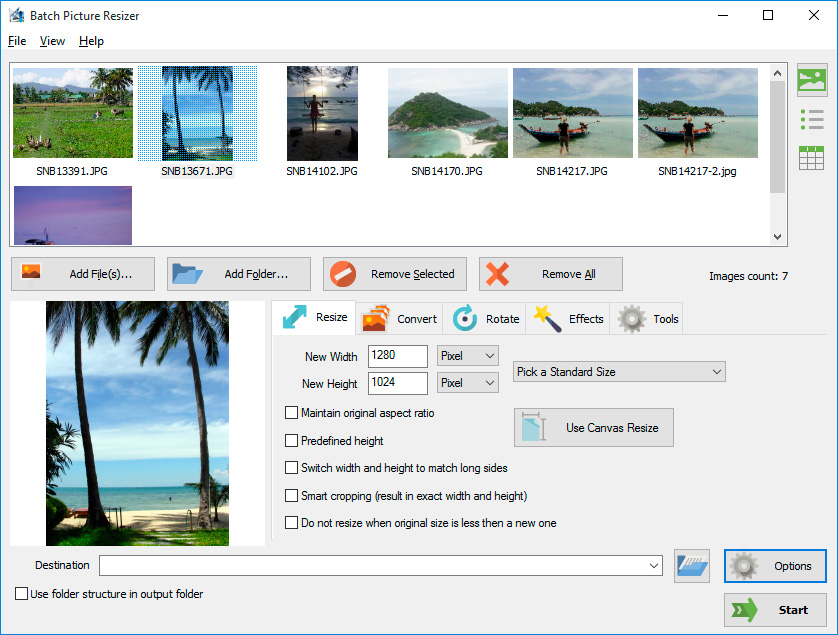 Download for Free
With its simple yet very excellent and useful features, Batch Picture Resizer is the best choice for all people who uses digital images especially photographers who wants to resize a large count of images in an easier and quicker way.

How to use Fast Image Resizer Software
To check the tool's effectiveness using this simple tutorial.

Step 1
Download fast image resizer softwtare, run it and enter the File menu.

Step 2
Select Add Files or Add Folders options. In the latter case, all the images contained in the folder will be displayed. You can skip the menu and use the Add Files/Add Folders buttons.

Step 3
Set image width/height parameters using pixel/percentage modes.

Step 4
Apply Rotate options below the viewer window. Also, you can choose between colored and grayscale output images.

Step 5
Select the output format using the Output Format drop-down list. Press Start to resize your images and check the results.

Download for Free
Downlaod Fast and easy to use Images Resizer
Got a load of digital photos that are all too large for web uploading? Here is now the image pixel resizer that allows you to adjust the dimensions of your pictures. Softorbits' Batch Picture Resizer is your image resizer tool that processes photos in full auto mode. Within just couple of minutes, you can reduce or expand the size of all your photos and have it all uploaded on your social networking site such as Facebook, Twitter and Flickr. Likewise for email sending needs, Batch Picture Resizer allows you to resize the file for easier attachment.

Convert between all major image formtas
Batch Picture Resizer does not only resize images but it can also convert the pictures in any of your desired image format. This image processing application supports various formats like RAW, NEF, CR2, PSD, JPEG, TIFF, GIF, PNG, BMP and lots of others. A must-have software for Windows 10 / 8 / 7 (64 / 32 bit), you will have no trouble at all in downloading and installing them on your computer.

Hence, if you are resizing a photo using windows 7(64 or 32 bit), you should employ image resizer windows 7 (64 or 32 bit) compatible to your system. The same goes with more advance systems like the Windows 8, which also requires you to install and download image resizer windows 8.
The software features lossless editing tools which allow you to get the processed output in its highest quality possible. Unlike any other image processing application, Batch Picture Resizer is very easy to learn and use. It allows you to apply watermark or logos to all your images, flip, rotate and mirror the photos with all the awesome results for the output.

Convert 1000 of photos in a fiew minutes in a Batch Mode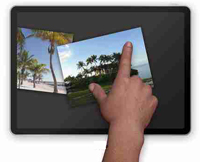 This fast images resizer software can operate in batch mode, wherein you can process a single or multiple photos all at the same time. You will just have to open the images using the Batch Picture Resizer application. Click on the resizing option for the adjustments of dimensions then choose the destination folder to where the outputs will be stored, also if you want to save the image in different format go to the output format option and choose the desired file format. Click "Start" button and the processing of your images will begin.

Understand Image Resizer For Windows
You may ask yourself, what is the point of getting an image resizer?
In general, the resizing of the files image size can be done using simple tools that are already installed in your computer. The problem, however, arises in preserving the quality of the image files that you are resizing.
In photography, images contain data and this specific data holds the quality of the photo. Therefore, the more you edit the photo using self-employed tools such as Paint or Windows Office Picture Manager, the more the quality defoliates. This is why it is more ideal to employ tools such as the Batch Picture Resizer to compress your photos. Such tools allow you to compress photos and at the same time preserve the data contained in every file.

Fast Image Resizer Download for Windows 7 / 10 32/64 bit FAQ
2015-08-27
. Last updated on 2019-12-16
Batch Picture Resizer

This easy and user-friendly tool helps you to resize or convert large groups of photos, flip, mirror or rotate them.
Download
Buy now