Batch Picture Protector: A reliable partner for professional graphic artists
Are you an aspiring graphic artist who wants to make it big in your chosen industry? This profession can be very rewarding especially if you know how to protect your works of art. Batch Picture Protector can be of great help to you in this aspect. This application is among the many applications sold in the market today which promises to make watermarking hassle-free and less time-consuming. Nevertheless, it seems to be a head in terms of popularity compared to most of its competitors. What made this possible? Browse through this article and discover several features which make Batch Picture Protector a worthwhile watermark software download.

User-friendly interface
With an easy to use interface, you don't have to waste a lot of time familiarizing the ins and outs of Batch Picture Protector. You have several options as you download watermark software but only a few can be compared to Batch Picture Protector in terms of simplicity. It comes with a complete user manual which you can freely access if ever you encounter problems while using the application. Uploading your unique watermark photo to the application, resizing, and repositioning it is a few button clicks away. It's true that you can place a watermark on photos using high-end image processing applications but the simplicity offered by Batch Picture Protector allows virtually anyone to carry out this task effectively.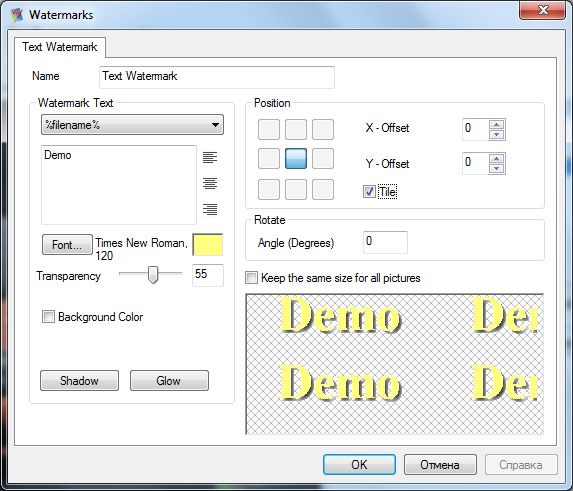 Fast and reliable
The graphic production industry is very demanding. This is true especially if you are currently involved in projects which require you to produce hundreds of unique images under a strict deadline. In this situation, you need an application which can place watermark on hundreds of photos in a matter of minutes and Batch Picture Protector is a great option for this purpose.

Supports all major image formats
You can tap Batch Picture Protector regardless if you want to save your photo on a JPEG, PNG, or GIF file format. This application is also compatible with the recent operating systems. In fact, majority of its patrons claim that Batch Picture Protector is the best watermark software for Windows. Graphic artists and business owners alike will surely appreciate how this application can be used in almost any platform without complicated tweaks.
Batch Picture Protector

Image watermarking software protects your digital images and artwork by adding professional transparent watermarks that combine text, illustrations and graphics.
Download
Buy now