A Software That Helps In Watermark Creation
The security of any picture that is uploaded online is the greatest factor of concern. That is why individuals need to employ picture watermarking. Using watermarks on photos is simple and cheaper. Individuals should embrace photo watermarking at all times before releasing their pictures online. The internet has multiple users with different motives. Criminals are also found online. They can use images which are not watermarked for their wrong mission. Therefore initiating the use of watermarks will mean curbing of this problem. This software is easily available in the market.

Different companies manufacture different software. This allows the customers to access them with ease. Watermark creator software does a lot of operations when dealing with picture watermarking. With this software in place then performing picture editing is always made simpler and faster. When dealing with digital photos, then it is good to use this software. This software is powerful and also produces strong watermarks that cannot be removed. With it text addition is easy. It protects an individual's copyrights and provides the ability of comment addition to any picture. When dealing with multiple photos, then it is the best to use because it allows for batch processing.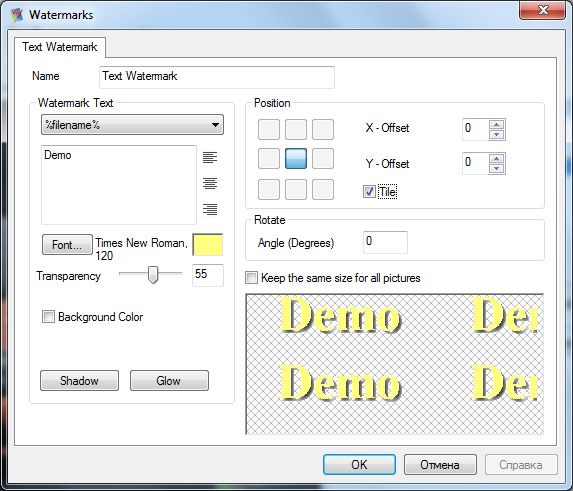 An easy watermark creator for real estate again is of great importance. It helps in the creation of watermarks on every kind of digital photos. This software is simple and easy to use. It has a good track record on its protection against unauthorized access to photos. It is user friendly by allowing easy watermarking. This software has a built in previewer that enables viewing of changes on images before application. This previewer can also undo and redo changes on an image.

A watermark logo creator is essential during the process of watermarking. The creator gives the provision of inserting an individual's logo on a photo. With this software in use, a number of issues on watermarking pictures and videos are solved.
Posted by
Eugene
2015-08-27
. Last updated on 2019-12-01
Batch Picture Protector

Image watermarking software protects your digital images and artwork by adding professional transparent watermarks that combine text, illustrations and graphics.
Download
Buy now