How Batch Picture Protector Can Prevent Image Theft
Watermarking an image or artwork is thebest way to protect photographs from unauthorized use by image thefts online. In this day of sharing publicly and publishing online works and pictures, anyone can fall victim to stolen images and works. Do not wait for the time that you see your image or artwork being used on another site without permission by people who does not understand the meaning of the word "intellectual property". It is therefore important to learn how to make a customized watermark or logo by using the best digital watermarking software we have available, the Batch Picture Protector.

A watermark may contain your personal or company logo, website URL, or customized design that is clearly placed on an image or artwork to discourage image thieves from claiming it as their own work. The best watermarking software can be downloaded with a free trial and may also be bought online. The software is favored most by digital graphic designers, banner and logo makers, professional photographers, and image enthusiasts who want their own work clearly identified for their own protection. By using the software the images and artworks are fully protected by its non erasable or fixed watermarks and logos that can not be easily removed. It is also compatible with other leading digital image enhancing programs. Once watermark is applied on an image it can be saved in a variety of file formats to your drive.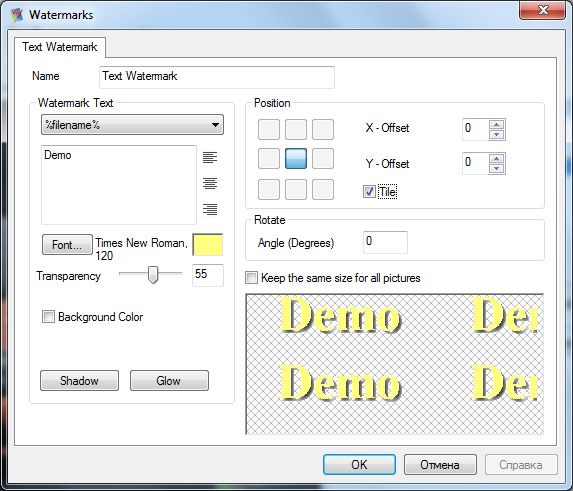 Explore its tool options and settings to customize that much needed watermark for your images. Besides complying with the Windows Vista and 7 operating systems, it is fully equipped with graphics and texts to suit your every watermarking need. With its wide option of settings, adjust the transparency according to the preferred clarity and visibility of your watermark on the image. The user friendly digital watermarking software also comes with a very useful feature called automatic watermark positioning and eventually save all your available watermarks on your watermark library.
Batch Picture Protector

Image watermarking software protects your digital images and artwork by adding professional transparent watermarks that combine text, illustrations and graphics.
Download
Buy now