Turn your picture into a sketch
Many of your friends are posting Instagram photos online and you wish you could surprise them with something different? Try to turn picture into sketch!




Sketch pictures look new and unusual, but you will be amazed at how easily they can be created! All you need for turning pictures into sketches is Sketch Drawer by SoftOrbits.
This program is very easy to use, allowing you to convert hundreds of pictures into unique sketches in a matter of minutes. You can choose the style of the sketch and create several versions of one and the same photograph, too. This will make your friends think that you are an artist! Keep Sketch Drawer your secret tool or let everyone know about it, it's up to you!
Let us see how Sketch Drawer works, so that you can turn your pictures into pencil sketches without a single question!
How to use Sketch Drawer
All you need to do to begin to turn pictures into sketches, is download Sketch Drawer. SoftOrbits offers a free evaluation version of the program, so you can see all the advantages of the converter without paying a penny.
Having downloaded and installed Sketch Drawer, you can actually begin turning picture to sketch!
Add the pictures you want to edit, and then select the types of strokes. You can enable hatching, create color sketch, fill white areas, make detailed sketches, and more. If you do not know what some the options mean, don't be afraid to play with them.


Once you are done with the settings, click "Run".
You will see a green progress bar at the bottom of the screen. It will disappear when the sketch is ready. You can always edit the resulting images by applying different settings till you are 100% satisfied with the sketch.
Download Sketch Drawer today to surprise all your friends with your artistic skills!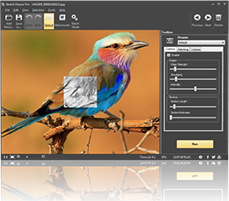 Photo to Sketch Converter allows you to create beautiful pencil drawings based on digital photos.
Turn your digital photos into works of art!