Flash Recovery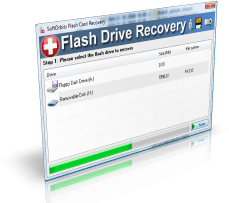 Undelete files and recover data from formatted, damaged and corrupted flash drives and memory cards! SoftOrbits Flash Recovery is a dedicated data recovery tool to work with flash-based media. Supporting a wide range of solid-state devices, it can recover information from USB flash drives and most major memory cards including SD, SDHC, SDXC, Compact Flash, SONY Memory Stick and a few obsolete formats such as xD and MMC. In addition, program can recover files directly from digital cameras and audio players connected to a PC via a USB cord (only if the device mounts as a drive letter).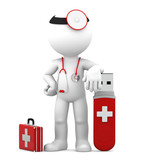 SoftOrbits Flash Recovery is able to recover all types of files including pictures, documents, MP3's and all other types of files stored on a flash-based device with instant pre-recovery preview. The built-in visual pre-recovery preview displays the content of recoverable files before you save them on a disk, allowing you to pick the latest versions of documents or the least corrupted version of a file from the list. The preview is stand-alone, and works without launching any third-party tools or viewers, and is included even with the free trial version. In the free evaluation version of SoftOrbits Flash Recovery, you will be able to scan the drive and see file previews. The ability to save files on a disk is only available in the full version you can purchase here.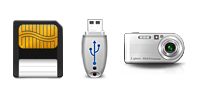 Program is fully automated and extremely easy to use. All you need to do to recover information from a flash drive or memory card is launching SoftOrbits Flash Recovery and selecting the drive to recover from the list of available devices. It will do the rest completely automatically.
SoftOrbits Flash Recovery allows you to:
Key features
Recover all types of files from all kinds of flash media
Recover data from USB flash drives and all types of memory cards
Recover information from some digital cameras and audio players directly (via a USB card)
Preview and recover JPEG, JPG, TIFF, BMP, PNG, GIF, TGA and other image formats
Preview and recover RAW images (CRW, CR2, NEF, PEF, RAF, RAW and others)
Supports Microsoft Windows 2000, XP, 2003 Server, Vista, Windows 7, 8 and 2008 Server.
What customers are saying
:
I found your programme -searching the web.....most others were almost twice the price of yours...so I chose yours as it was the cheapest & works fine, So I can still use my Nikon digital camera with compact flash card....which is over 12 years old & funtioning fine!!! Thank you
:
Ok I have to say that usually I don't use this kind of software as they seem fishy to me, I am always skeptical that they will put something on my PC or not recover what I want.
But this flash drive recovery tool actually works and it is a very nice & small program nothing to figure out ( I think my dog can work it ) LOL
I put in a flash drive my daughter told me her friend accidentally deleted about 4 months ago, instead of tossing it I kept it around well I put it in, ran the program and I recovered all her pics needless to say she is going to be very happy about it (until I have a talk with her about some pics I wasn't supposed to know about)
I am EXTREMELY exited with this, (now I can go through some other stuff) and see what I can find
PARENTS YOU NEED THIS, Thank You SoftOrbits 8=)
:
I have scanned the pen drive, and it is in the process of recovering my files very well. Your program is working beautifully!
:
Suspect my files were corrupted by DskChk (or something similar on an external flash drive. Just installed and tested SoftOrbits Flash Recovery immediately recovered the first lot of my photos. Big thumbs up to SoftOrbits!
SoftOrbits Flash Drive Recovery 3.1
Your recovered images are damaged or truncated?
Try Picture Doctor - a jpeg recovery tool.