Convert CR2 to JPG with Batch Picture Resizer.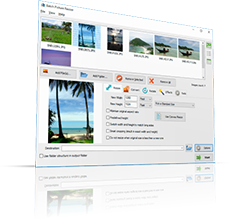 This easy and user-friendly tool helps you to resize or convert large groups of photos, flip, mirror or rotate them.
Photos store memories, most of them precious. We use these photos in a variety of ways like posting them online, printing for our photo albums or for a publication or just sharing them with family and friends. Photos, though, are saved in various forms like .jpeg, .cr2, .jpg, .bmp and several other formats, some common while some not that common. The .cr2 may not be that common. Maybe you were sent a photo with this file extension and you have some difficulties open it or you recently purchased a camera that saves the captured photos in this format. That may leave wondering and asking, how does one convert cr2 to jpg since the jpg format is the most common file type? Worry no more as Batch Picture Resizer is here to help you with that and much more!What is the cr2 photo format? This format, Canon RAW is associated with the Canon camera.

Demo
So if you purchased a Canon camera you have or will come across it. Most of us like the jpg format so Batch Picture Resizer will effortlessly help converting cr2 to jpg. With jpg format you can use the photo for various tasks. Why go for Batch Picture Resizer? This program has many wonderful features that will be of great benefit.During photo conversion most photos usually losses their visual quality. With Batch Picture Resizer, that problem is taken care of. So you can convert your photos without worrying that their qualities will diminish.Do you have many photos that you want to have them from cr2 to jpeg? With this software you can leave all that workload to your computer. How? The software has an auto mode feature to help in automating the tasks of photo converting and other tasks that it can do.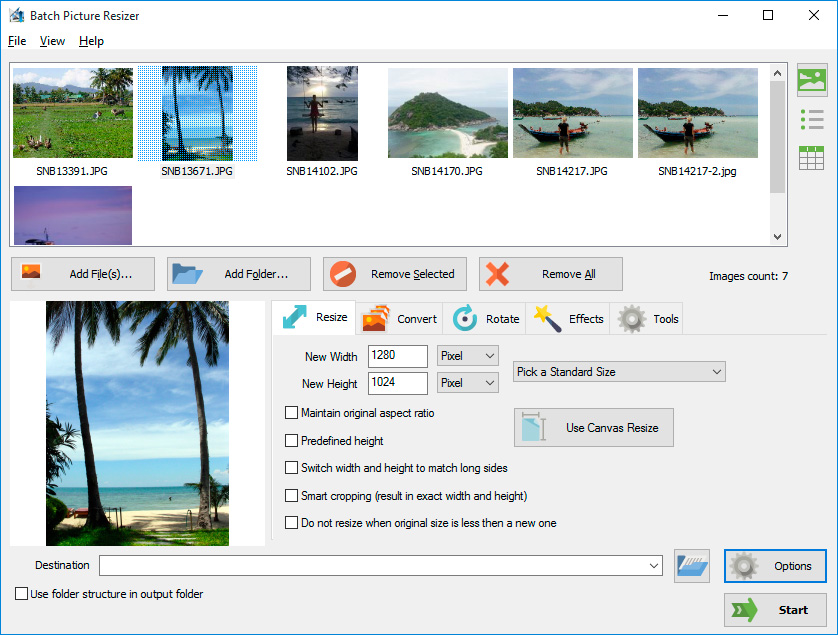 If the photos are to be posted online on websites, you may want prove ownership. After converting them, Batch Picture Resizer has the capability of adding not only text but also image watermark for that. You don't need another photo editing software for that. This will help you save time.Converting photos may not be easy to some people and that is why the Batch Picture Resizer was made in such a way that it is simple to use. You don't need to be a computer expert to use it.In conclusion, the Batch Picture Resizer features shows how useful the software is. You can try it out too in your photo converting tasks and other photo manipulating tasks that come with it.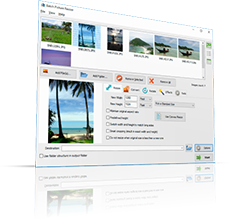 This easy and user-friendly tool helps you to resize or convert large groups of photos, flip, mirror or rotate them.